RK Backdrop Drapery & Curtains
Pipe and drape backdrops kits are perfect for room dividers, photo shoot backdrops, holiday events, dressing rooms, crowd control, exhibition booths, and many other displays.
We make it incredibly easy to purchase the perfect pipe and drape kit for your event! Our Complete Drape Packages include every pipe and drape component needed to have a perfect backdrop set-up in minutes, from the pipe and bases to the drapes.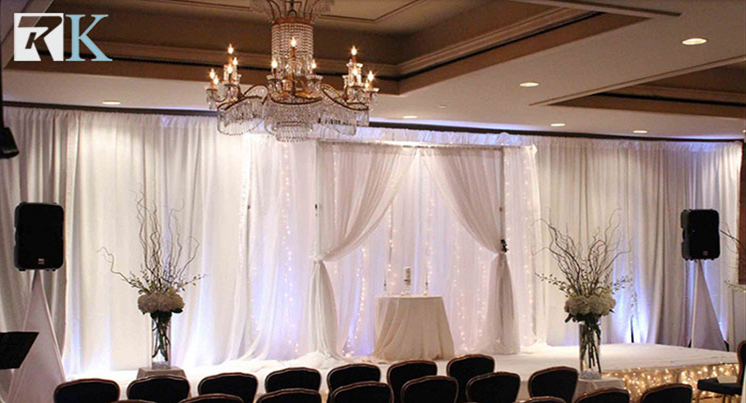 Pipe and Drape - Backdrops

Item
Part # No.
Description
Unit
Qty
 
 
 
 
 
ITEM 3S
 
3 Foot Tall - Single Backdrops
 
 
B1
RK-315
3' X 1-1/2" O.D. Standard Uprights
pcs
2
B2
RK-B814-BK
8" x 14" x 3/16" Base plate - with 2" Pin & Screw
pcs
2
B3
RK-TDS610
6'-8'-10' Telescopic Drape Support
pcs
1
B4
600035
3' high X 5' wide Banjo Drape Panels
pcs
3
 
 
 
 
 
 
 
 
 
 
ITEM 3C
 
3 Foot Tall - Connecting Backdrops
 
 
B1
RK-315
3' X 1-1/2" O.D. Standard Uprights
pcs
1
B2
RK-B814-BK
8" x 14" x 3/16" Base plate - with 2" Pin & Screw
pcs
1
B3
RK-TDS610
6'-8'-10' Telescopic Drape Support
pcs
1
B4
600035
3' high X 5' wide Banjo Drape Panels
pcs
3
 
 
 
 
 
 
 
 
 
 
ITEM 8S
 
8 Foot Tall - Single Backdrops
 
 
B1
RK-815
8' X 1-1/2" O.D. Standard Uprights
pcs
2
B2
RK-B1416-BK
14" x 16" x 3/16" Base plate - with 2" Pin & Screw
pcs
2
B3
RK-TDS610
6'-8'-10' Telescopic Drape Support
pcs
1
B4
600085
8' high X 5' wide Banjo Drape Panels
pcs
3
 
 
 
 
 
 
 
 
 
 
ITEM 8C
 
8 Foot Tall - Connecting Backdrops
 
 
 
 
 
 
 
B1
RK-815
8' X 1-1/2" O.D. Standard Uprights
pcs
1
B2
RK-B1416-BK
14" x 16" x 3/16" Base plate - with 2" Pin & Screw
pcs
1
B3
RK-TDS610
6'-8'-10' Telescopic Drape Support
pcs
1
B4
600085
8' high X 5' wide Banjo Drape Panels
pcs
3
 
 
 
 
 
 
 
 
 
 
ITEM 10S
 
10 Foot Tall - Single Backdrops
 
 
 
 
 
 
 
B1
REK-TS610
Adjustable 6 to 10 foot tall UPRIGHTS - with Pin & Screw
pcs
2
B2
RK-B1818-BK
18" x 18" x 3/16" Base plate
pcs
2
B3
RK-TDS610
6'-8'-10' Telescopic Drape Support
pcs
1
B4
600105
10' high X 5' wide Banjo Drape Panels
pcs
3
 
 
 
 
 
 
 
 
 
 
ITEM 10C
 
10 Foot Tall - Connecting Backdrops
 
 
 
 
 
 
 
B1
REK-TS610
Adjustable 6 to 10 foot tall UPRIGHTS - with Pin & Screw
pcs
1
B2
RK-B1818-BK
18" x 18" x 3/16" Base plate
pcs
1
B3
RK-TDS610
6'-8'-10' Telescopic Drape Support
pcs
1
B4
600105
10' high X 5' wide Banjo Drape Panels
pcs
3
 
 
 
 
 
 
 
 
 
 
ITEM 12S
 
12 Foot Tall - Single Backdrops
 
 
 
 
 
 
 
B1
REK-TS712
Adjustable 7 to 12 foot tall UPRIGHTS - with Pin & Screw
pcs
2
B2
RK-B1818-BK
18" x 18" x 3/16" Base plate
pcs
2
B3
RK-TDS610
6'-8'-10' Telescopic Drape Support
pcs
1
B4
600125
12' high X 5' wide Banjo Drape Panels
pcs
3
 
 
 
 
 
 
 
 
 
 
ITEM 12C
 
12 Foot Tall - Connecting Backdrops
 
 
 
 
 
 
 
B1
REK-TS712
Adjustable 7 to 12 foot tall UPRIGHTS - with Pin & Screw
pcs
1
B2
RK-B1818-BK
18" x 18" x 3/16" Base plate
pcs
1
B3
RK-TDS610
6'-8'-10' Telescopic Drape Support
pcs
1
B4
600125
12' high X 5' wide Banjo Drape Panels
pcs
3
 
 
 
 
 
 
 
 
 
 
ITEM 14S
 
14 Foot Tall - Single Backdrops
 
 
 
 
 
 
 
B1
REK-TS814
Adjustable 8 to 14 foot tall UPRIGHTS - with Pin & Screw
pcs
2
B2
RK-B1818
18" x 18" x 3/16" Base plate
pcs
2
B3
RK-TDS610
6'-8'-10' Telescopic Drape Support
pcs
1
B4
600145
14' high X 5' wide Banjo Drape Panels
pcs
3
 
 
 
 
 
 
 
 
 
 
ITEM 14C
 
14 Foot Tall - Connecting Backdrops
 
 
 
 
 
 
 
B1
REK-TS814
Adjustable 8 to 14 foot tall UPRIGHTS - with Pin & Screw
pcs
1
B2
RK-B1818
18" x 18" x 3/16" Base plate
pcs
1
B3
RK-TDS610
6'-8'-10' Telescopic Drape Support
pcs
1
B4
600145
14' high X 5' wide Banjo Drape Panels
pcs
3